Part of the furniture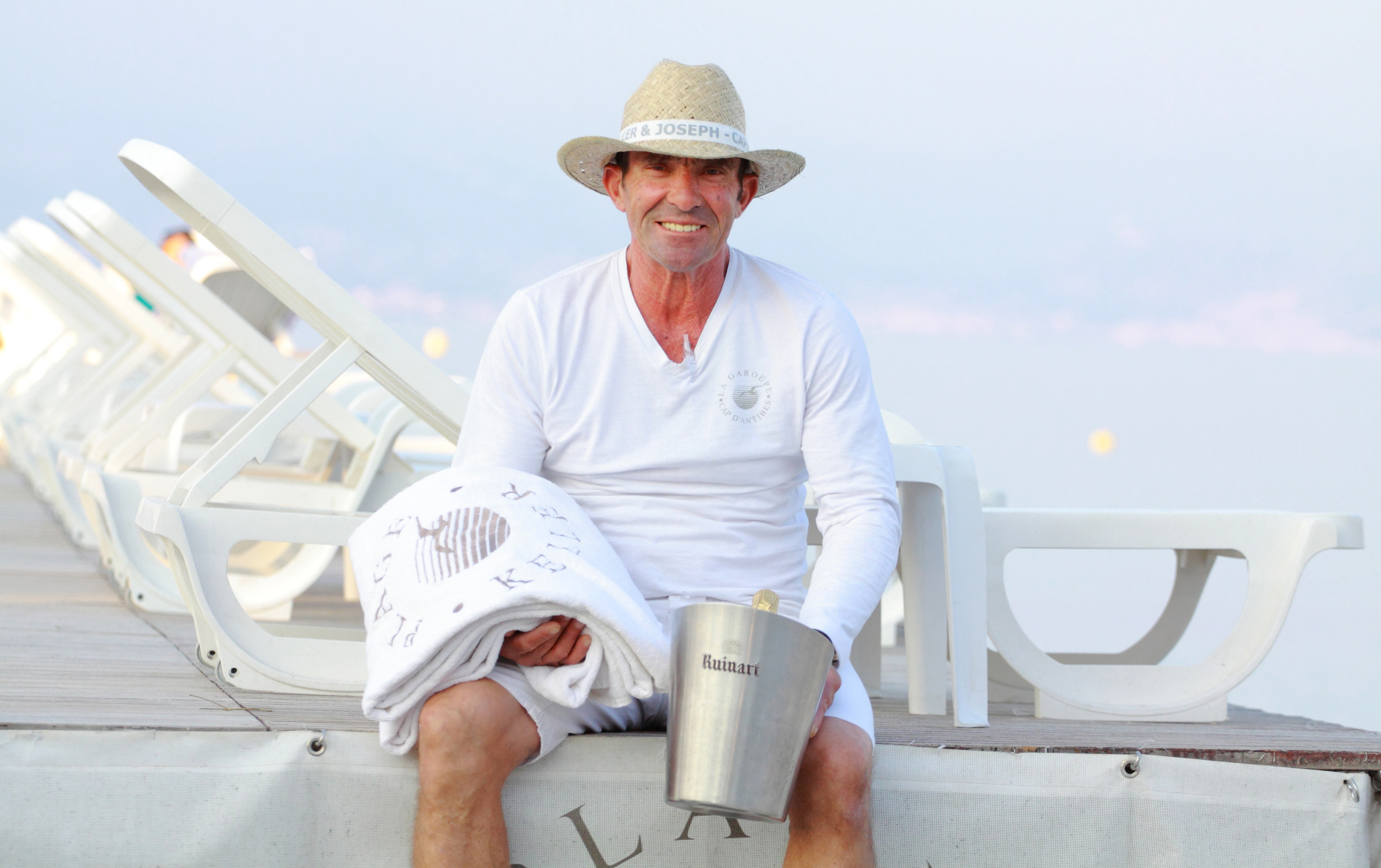 Times they are a changing….
If you are a regular visitor to Plage Keller at Plage de la Garoupe then you will definitely know Philippe who works on the Beach of Plage Keller.  Philippe is literally part of the furniture here having worked on the private beach for decades. In his distinctive hat and dark tan he never seems to stay in one place for long. He is generally running around greeting clients arriving at the private beach, arranging the sun loungers and parasols, showing people to their beds, and generally looking after the guests on the beach.
Even in the super hot months of July and August while the rest of us are keeping cool in the sea and enjoying the holidays the people who work in the beach restaurants here are doing the exact opposite. This is their busiest time and they work sometimes for more than 10 hours a day, 7 days a week for 6 months.
I am sure Philippe won't mind me pointing out that he isn't exactly a young man and I imagine his work is quite physical and tough in the high season.
In fact, when I manage to get a minute to speak with him, it turns out that working at Plage Keller isn't all he does. He is also a guardian of a Villa on the Cap.
He told me that every day he gets up at 5 am and then he works at the house for a few hours before coming to Plage Keller to work sometimes late into the night. Often he doesn't get to sleep until well after midnight before rising again at 5am and doing the whole routine again.
I was literally exhausted just listening to him telling me about his day. In the winter he has a break from the day work as Plage Keller is closed, then he has a little more time to focus on his guardian work and also spend time with his family.
How long have you worked at Plage Keller on Plage de la Garoupe?
I started to work here with the first owners when I was just 14 years old. As soon as I left school I started to work here. My mother, at that time, worked for the original owners at their home. She was their governess and she also looked after the house, the cleaning, and prepared the food. The family were happy to give me a job in their restaurant here as they knew me very well.
Unfortunately I lost both of my parents by the time I was 17 years old. My father passed away when I was 14 and my mother when I was 17. After my mother died I went to live with the family who owned the beach at that time. They took me in and looked after me for many years and I continued to work for them.
Have you always worked on the Beach?
No, when I first started working here I worked in the bar upstairs. My job was making the drinks and the ice creams and I did that for about 2 years. Then one day the Plagist had a disagreement with the owner, and he left. The owner then came to see me and said "Philippe do you think you could do this job on the beach here"?  I said "yes of course". Working on the beach with the sun and the view and dealing with happy people every day it's a great job so I jumped at it.  It was a good time for me and the clients also liked having a young happy guy around to look after them while they were here. I continued doing this job for the family until I was about 30 years old.
I met my wife here on this beach and we decided to move together to nice. We got married and had a family and after that we spent a few years living and working in Nice.
One day, a few years later , I had the opportunity to come back here to the beach.  At this time it had been taken over by someone else and the new owners asked if I would come and work on the beach for them, just for a day. After that first day they asked me to come back the following weekend which I did. I was then offered the opportunity to work full time. The money here is very good and one can earn a good living. It's hard work but it pays well. So I decided to go back to doing this kind of work here on the beach. I was maybe 33 or 34 years old. I have been here ever since.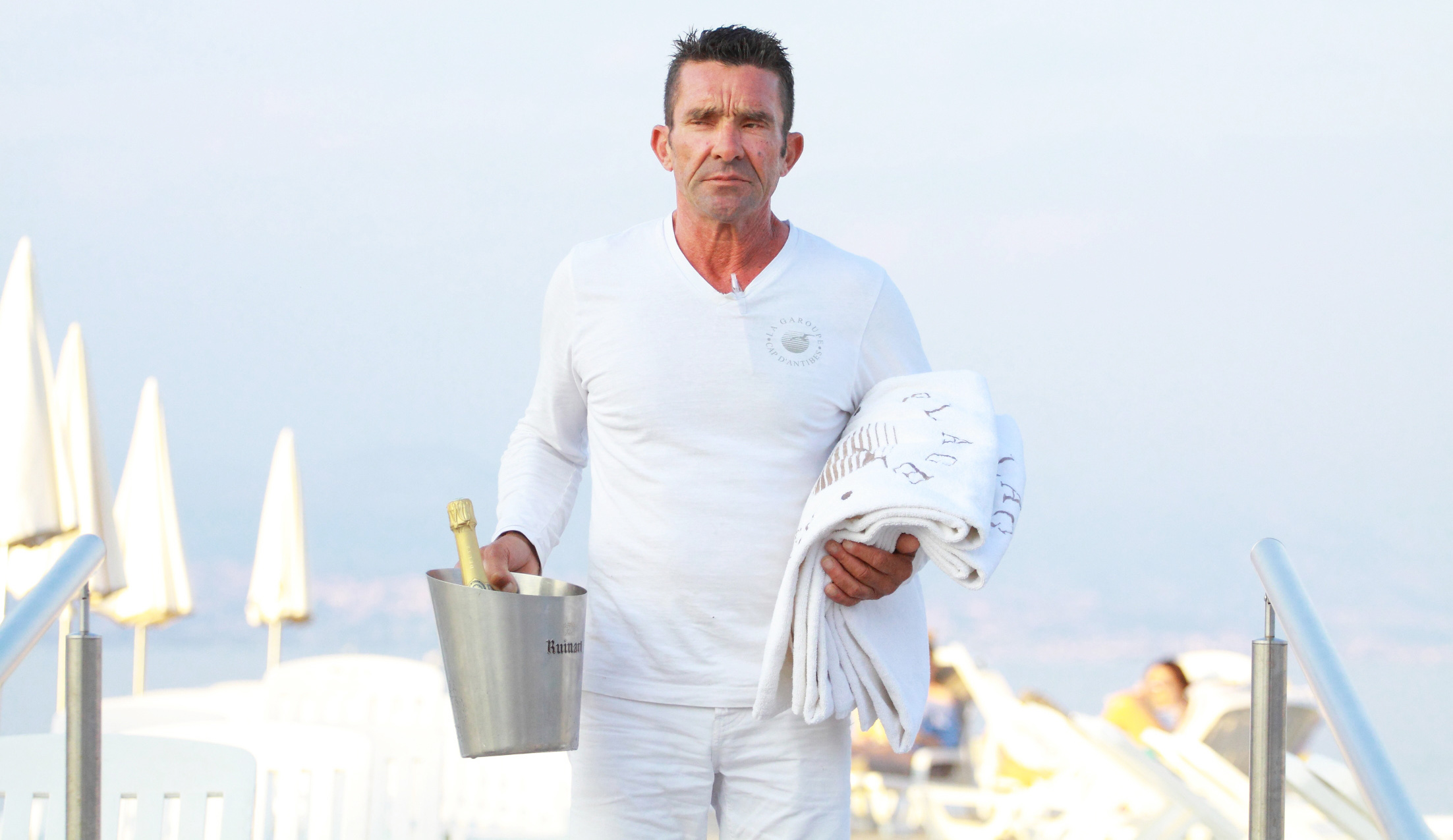 What does your job involve?
In the morning the first thing I do when I arrive is to make sure that the beach is clean. We pick up any rubbish and then we rake the sand and make it look neat and tidy. Next I put out the beds and chairs and all of the beach furniture. I clean the  benches and change any sunbed covers which need to be washed. We wipe down and put out the parasols. It takes around 2 hrs to set up the beach for the day ahead so we need to start early especially in the high season.
Later in the morning when the clients start to arrive I show them to their sun loungers and make sure that they have everything that they need and generally look after them throughout the day.
What do you love about your job?
I like the people,  the location, I love everything about it otherwise I wouldn't still be working here after 30 years.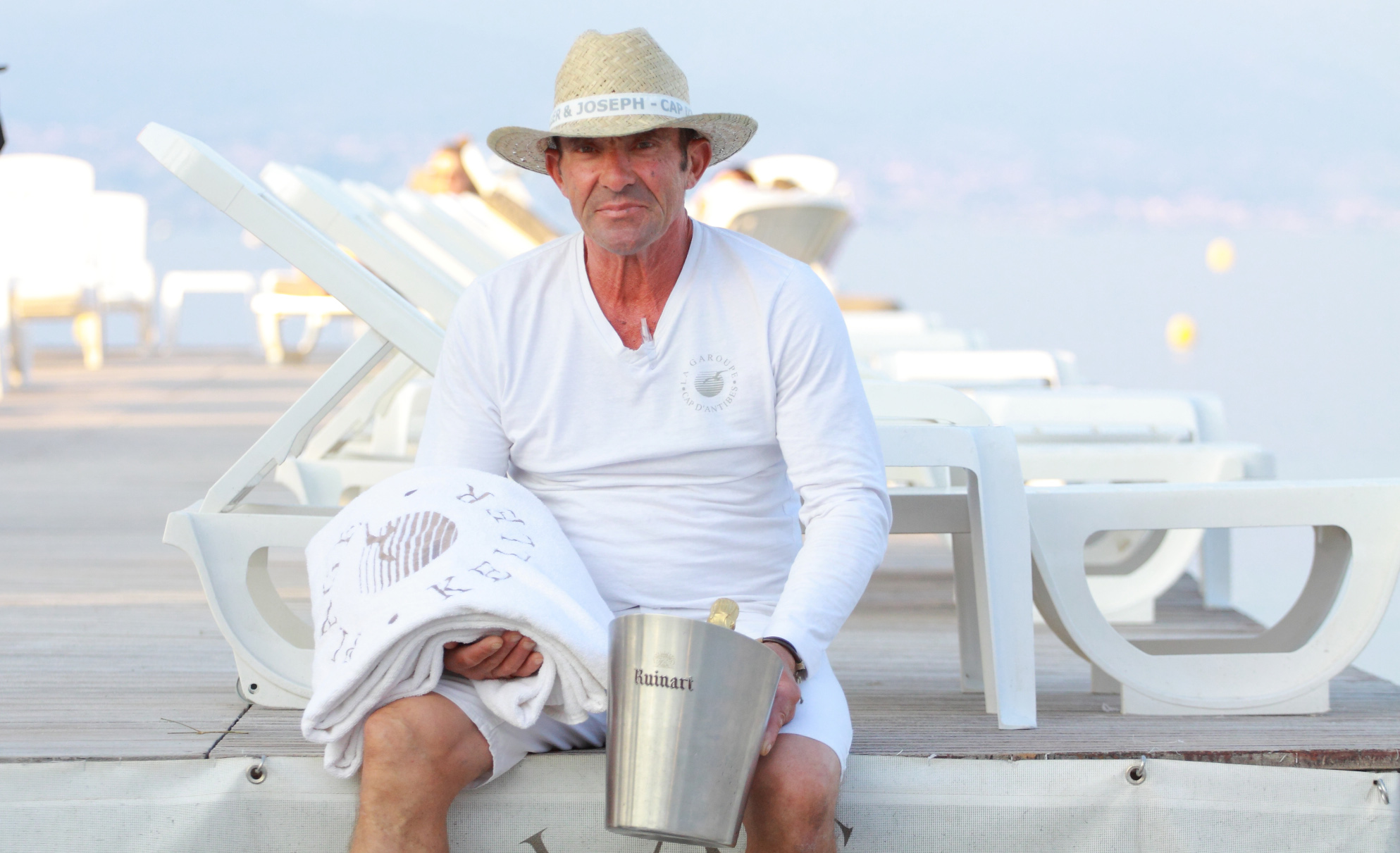 What do you love about Cap d'Antibes?
I love the wildness of it. All the people of my generation when they were young came to Cap d'antibes to spend time. They would come on their bicycles or on foot. Back then so many young people came here, we all loved being in Cap d'Antibes.  It's not the same now with the young people like it was for us. Now they have other things to occupy themselves, they have their computers and phones, the internet. We didn't have any of this, instead the Cap was our entertainment, it was a different life. We had our bikes and our crayons that was it! Our days were spent outside in the nature, we didn't need anything else. It was so beautiful spending time here and we had a lot of fun.
The Cap itself has, in my opinion, remained the same but the kind of people who come here has changed.  For people of my generation it was like our private playground now it's more a place for visitors and tourists. People from all over the world come here now back then it was just the local people.
Describe a typical day for you in the summer?
I work  at Plage Keller from Mars to Oct but at the same time I am also the live-in guardian of a villa on the Cap. For the last 10 years I have had two jobs. The summer is a very busy time for me and I have to work very hard. In the winter I focus on my work at the villa.
In the summer I get up at maybe 5am and then I work in the villa as it is generally rented out. Then I come straight here to the beach and work here all day sometimes until very late into the night. After that I go home for a few hours sleep and get up to do the same thing again the following day.
However, I am going to stop all that soon. It's too much for me having two jobs. It's a lot of work for someone of my age.
This is my last week here at plage Keller and then I will stop work at the villa next year.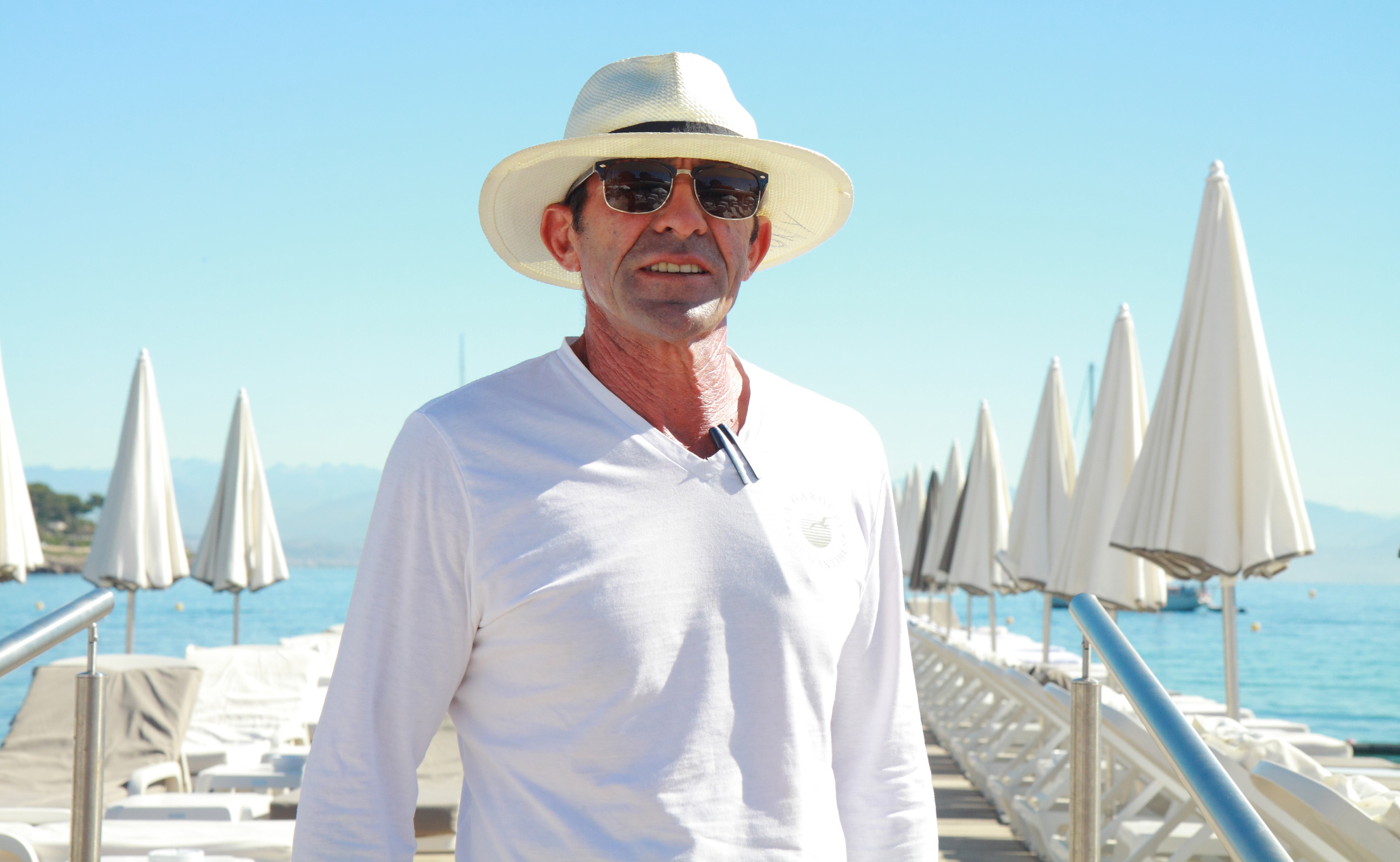 What made you do two seasonal jobs?
Because I had to. I can't not work hard. It's something I have always done from a very young age. To get anything in life you need to work hard for it. That's what I believe anyway. What attracted me to taking a second job at the villa was the fact that it is a live in position. It offered the advantage of having no bills. I have no rent, no utility bills etc. The free accomadation is a great benefit for me but now the work is getting too much for me.
Are you glad to be stopping work?
I have to stop work because of my age. It's not a choice. I am too old now to do what I do. Working here on the beach is a very very physical job with long hours and of course we also work in the heat and sun every day. I think it's time for me to take it easy so that's what I plan to do.
Favourite month.
My favoutire month during the season here? Well that's complicated. July and August are the best months for earning money but they are also incredibly stressful. My favourite month here is September, it's a completely different clientele. In Septemeber the people who come here are much more relaxed. There aren't so many children and big families. The clients are more relaxed. They don't want everything straight away so there is much less pressure on me. I also have time to chat with them which is nice. At the end of a day in September I still have energy which isn't the case in the high season.
What do you like to do when you are not working?
I spend time with my family. My family originates from Italy so the family is very important to us.  I don't see them at all during the summer months because of work. When I am not working I enjoy spending time with them. I don't have a large family but I am very close to my sister who is getting quite old now so it will be good to to be together more. It's very important for me.
What's the plan for the future?
I don't know yet. I will take a rest, and reflect on the future. We will see what happens.
To receive new interviews and updates on news and events on the cap sign up for the newsletter.
---
---