Stand Up Elegance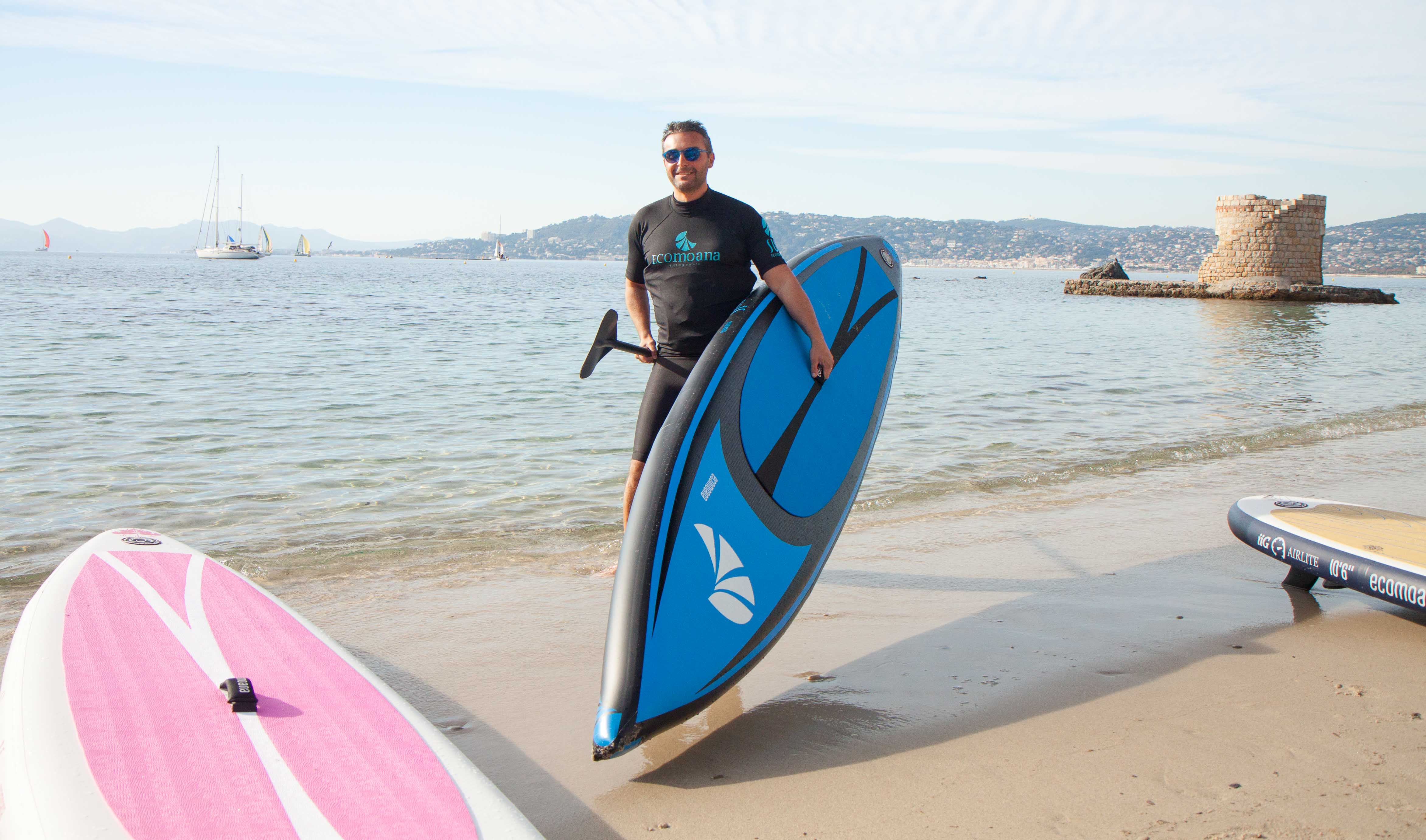 Paddle boards for Fashionistas.
If you love paddle boarding and you love fashion then for some stand up elegance look no further than Ecomoana.
The company is the brainchild of French entrepreneur Franck and his partners Rudy Fenet and Gunther Doll. Ecomoana design and manufacture a beautiful range of high end Paddle boards for those of you who want to take your Paddle boarding experience to the next level.  I met Franck at the Plage des Ondes or what Franck calls the Ecomoana beach. He calls it this because it was on this beach that everything began for the company in terms of their water boards testing. They have been testing their products here since 2012. When we met he was demonstrating his new 'sport' models to JD from Paddling in Antibes.
After saying hello to JD I stopped to have a quick chat with Franck about his product.
Tell me a little bit about yourself and Ecomoana.
My name is Franck Bennardi. I was born in in Paris and I am an entrepreneur. I started my working life in technology which took me to California and Silicon valley. It was living there which started my interest in nature and surfing. Myself I am not a surfer but I saw a business opportunity in this area so I thought ok, we have to launch a brand aimed at the Californian way of life but with the French style. Stand Up paddle seemed a great area to explore. We started Ecomoana in 2009 and then we moved here, to France, 5 years ago.
So our story actually started in California. Initially, thanks to Gunther, we were expecting to work with Laird Hamilton, a famous US surfer and surf legend. The project began with him over breakfast in Malibu in 2009 but then for many reasons, mainly financial, we couldn't go ahead together. So, in 2012, we decided to come back to France and launch the brand here. The French branch of the company is based in Cap d'Antibes. We originally wanted to launch in the States but due to Visa issues this wasn't possible for us.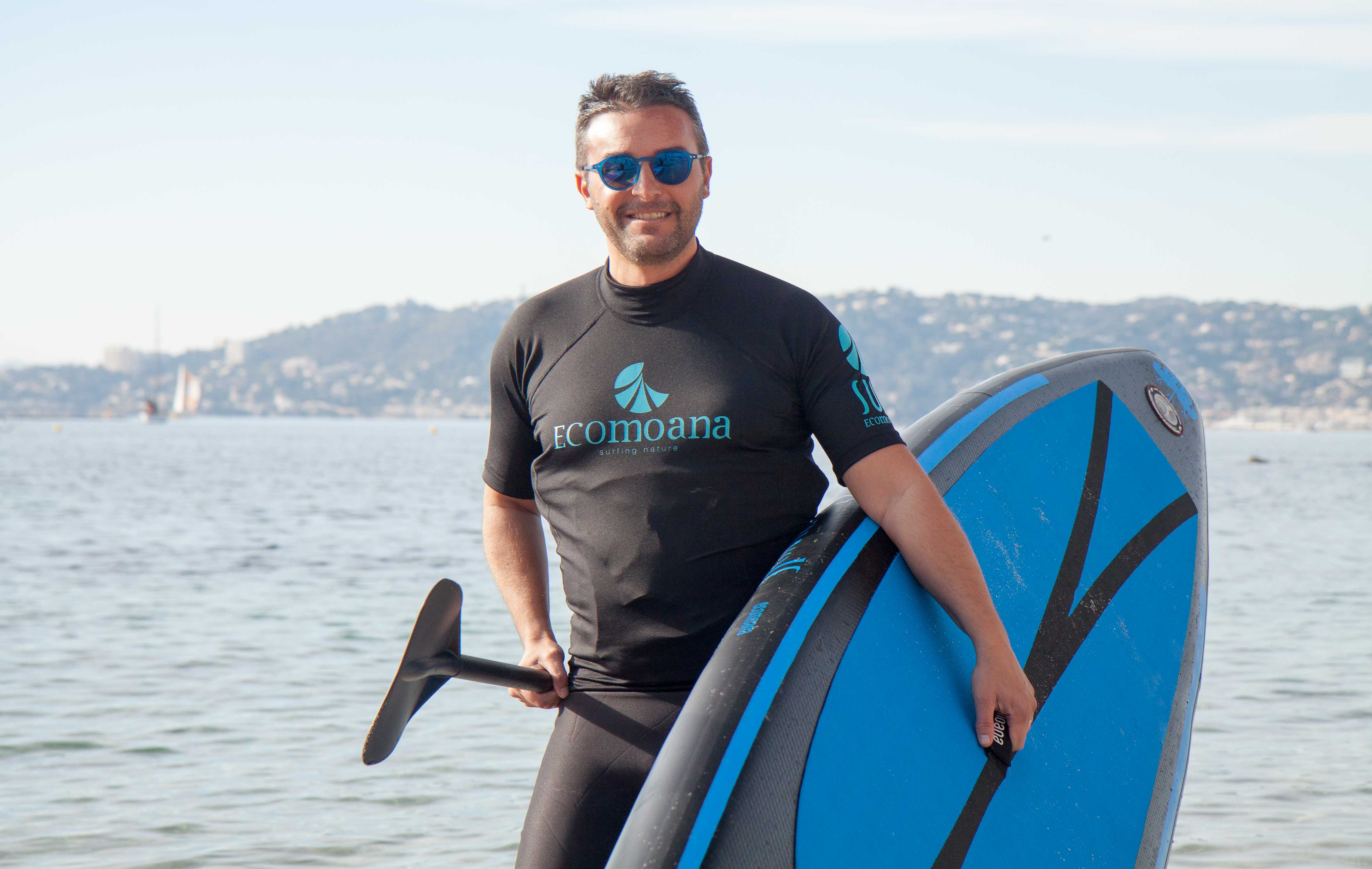 Why Ecomoana?
Moana means Ocean in Hawaian and Eco because we are very Eco sensitive in what we do, in terms of materials and so forth. You are probably going to say " but you manufacture them in Asia" well, yes we do but we do our best to make it as Eco friendly as we possibly can. Asides from the production, Stand Up Paddle as a sport is one of the most Eco friendly sports on the planet. There are zero emissions, you just have the board and the paddle, that's it.
However we do not promote the Eco friendly side of the product as much as we do the design aspect of it.  What we focus on is  the style and the creative side of our boards. We also try to focus a lot on the quality of materials which we use. This makes our boards a little more expensive than some of the other brands but we believe the extra cost is worth it. In any case, we are a very small company so we can't compete with, for example, Decathlon but at the same time we don't want to. Our focus is quality not quantity.
My partner was the creative designer of the Oxbow brand, a famous surfing brand. He was one of the first designers of that brand so now he approaches our products with that same focus on fashion and style. Rudy designs our paddle board as he would clothing. It is the element which, we believe, differentiates us from other brands. It's our USP if you like.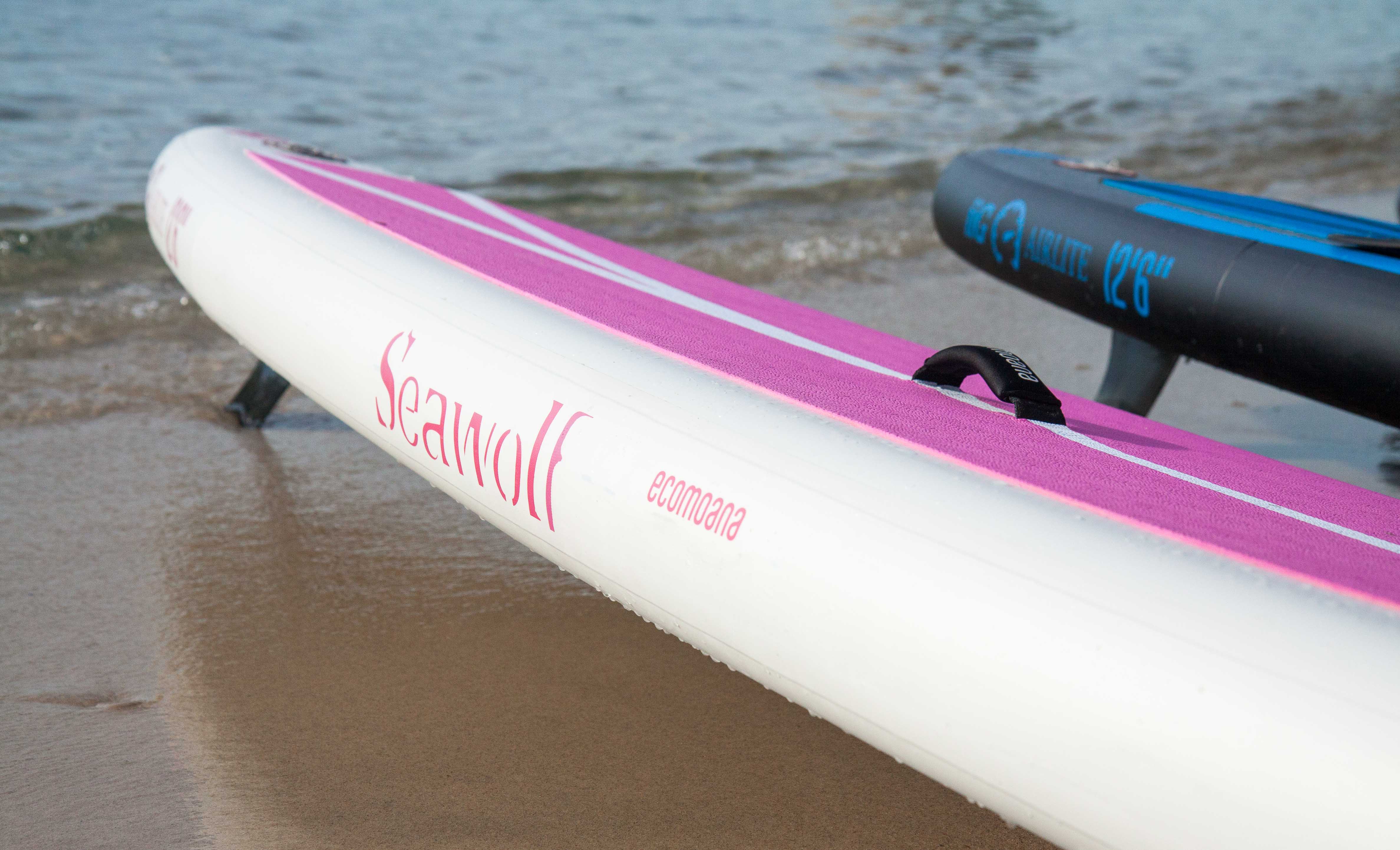 Why the emphasis on Nature?
I am very passionate about nature and Eco products so we tried to stay nature sensitive with the brand because of our personal ideals but also as a way to stand out from the rest. It is very important to us that as well as being a sports brand we are as Eco friendly as possible. We wanted a business which reflected our values as individuals.
Our customer base is actually much more girly than you would think. Our passion for fashion and also the environment seems to resonate more with the female customer. Basically Stand up Paddle isn't a very macho sport, there are lots more women doing it which is why we are focusing more on the style and elegance alongside the quality of course. From the feedback we get this is what is important to our customers.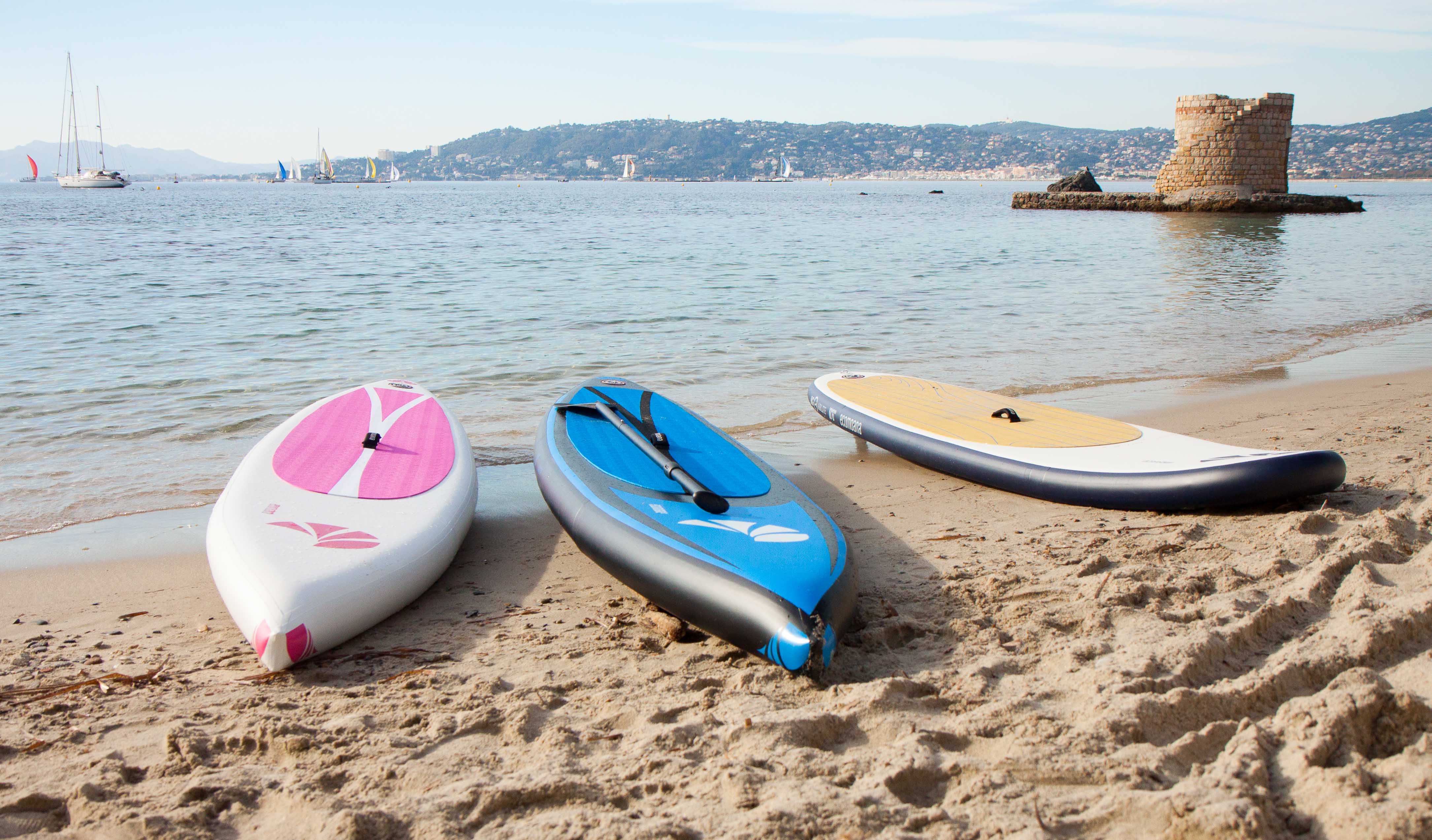 Why Plage des Ondes and Cap d'Antibes specifically?
We come here to this beach because the bay of Cap d'Antibes is one of the most beautiful bays in the world. I have been lucky enough to have travelled all over the world and really , for me, this is the most beautiful bay of any I have seen.
We love it here for many reasons, it's very easy to get here to try out the products. The bay is very calm and perfect for paddle boarding. It also matches very well with our core values. You have the nature, the Cap is still relatively unspoiled, you have the French style and also the luxury element. The location reflects our brand perfectly.
For us at the moment it's a passion rather than a business but we are in the beginning stages and we hope to develop it into a business over the next few years, however this takes time of course.
I think Stand Up Paddle as a sport will only grow and become more popular over the next few years. When you are on a paddle board you see the world from a different view, that's what I love about it. It enables you to be alone with nature and with your thoughts. It's a great escape and I think that's what more and more people are looking for in a sport these days.
For further information on Ecomoana products go to their website here
To receive new interviews and updates on news and events on the cap sign up for the newsletter.
---
---